Starting a few years ago I have decided to reduce my plastic waste. Sometimes we seem to not realize just how much of waste and especially plastic waste we actually create. I believe that subconsciously it may affect our wellbeing because we are ignorant to how our waste is being managed or rather, not managed. So here are just some of the steps I have made to reduce mine.
1. Deodorant
I bought an aluminium case for a deodorant that can hold refillables. There is a brand from the UK called "Wild" and you can get the aluminium case from them plus refillables that have wonderful scents such as lavender, coconut, rose and bergamot. If you are not able to find such a product where you are i would suggest getting a deodorant bar or a deodorant that is in paper case.
2. Washable Hygienic Towel
I watched a video by Dominique PC on the "Start The Wave" YouTube channel and the video was about taking back your period! It is quite amazing how I have never realize the waste I have been making every month since I was young girl. Although her video was talking about a menstrual cup instead of a tampon, I still prefer wearing pads and so I decided to look for reusable pads. I found a seller on Etsy who makes them herself and I ordered them. Since I live in France I tried to look for a local seller and I suggest you do the same wherever you are. It may be hard and if there's really no one then hey, order them from somewhere else no worries. For me, it's been quite a nice change. They are quite comfortable. I'm really happy with them and I just need to wash them with cold water and put them in the washing machine once i'm done with my cycle. It truly feels great to actually take back my period! My womanhood!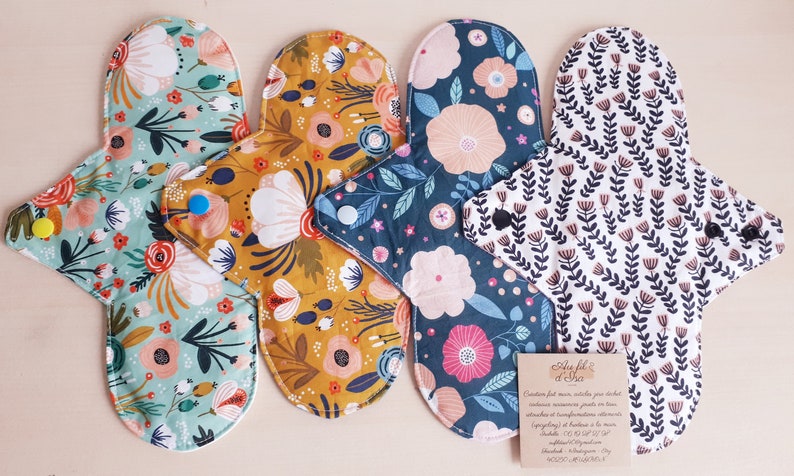 3. Refillable Dish Washing Liquid
We wash our dishes almost everyday and so imagine the plastic bottle or plastic waste we create just from the dishwashing liquid containers. I decided to try out this refillable dishwashing liquid from the nearest Biocoop store and it works wonderfully! It has a fresh lemon scent, it's ecological, it has no chemicals, it does not harm the water system and the whole bottle could actually last for months. On top of that, the bottle is recyclable if you'd like to change to a new bottle. Once finished, we just bring the same bottle back to the store and refill it.
4. Water Filter For Drinking
Water is the ultimate basic need for human beings. Funny enough, we take this particular issue lightly. People are not willing to spend on good water and for some who want to have better quality water they just get bottled water from the grocery store. I was one of those people. I had so many empty bottles to throw away or reycle at the end of each month. I kept thinking, how do we reduce or completely erase the plastic bottle waste but still get good and clean water? The answer was simple, a water source and a good water filter. A water filter that filters out all the bad particles that are in the water but still keeps the minerals intact. We found a great brand for a water filter called Berkey. It's been working great since the day we got it!
5. Reusable Bags for Grocery Shopping
This is already implemented by mostly all of the shopping malls and grocery stores. They started with no plastic bags on Saturdays to completely not having plastic bags in total. You just have got to always remember to bring your own reusable bags whenever you go out or go shopping. You could also always leave some bags in your car, handbags or backpacks.
6. Bamboo Toothbrush
We are to change our toothbrush every few months so instead of throwing away plastic toothbrush that are probably not even recycable, we could just get a sustainable solution. Bamboo toothbrushes are just about the same price and in fact, it feels way better to hold it in your hand while brushing your teeth. It even looks better too! Also, since it does not have colour, they would put symbols on the toothbrush so you could tell the difference! As for ours, one has a drawing of the sun and the other the moon.
So those are just some of the changes I have made in order to be more eco-friendly and sustainable. It really does feel better once you take the small steps towards a better change. Which step would you like to take next? Any of the changes speak to you? I wish you all the best in your next step to a more sustainable life.